Some years back I took the challenge at Suunto to design, from concept to public launch, the first fully customizable dive computer in the world.
My role was to understand the needs, desires, challenges, and dangers of the most demanding technical divers in order to design the next generation of dive computers; to create not just the most user-friendly, but the best quality and safest device for experienced divers.
As the main product designer for EON STEEL, I owned the digital design and was in charge of its User Experience, Interaction, and User interface. I was part of the digital tech team but worked very closely with the Industrial Design team to ensure a seamless and solid experience from the physical and the digital pieces of the product.
As part of the fabulous Suunto family I supported the HR team with testing ideas for making a more human-centric organisation and live our values.
One of our fun experiments was this "dream box".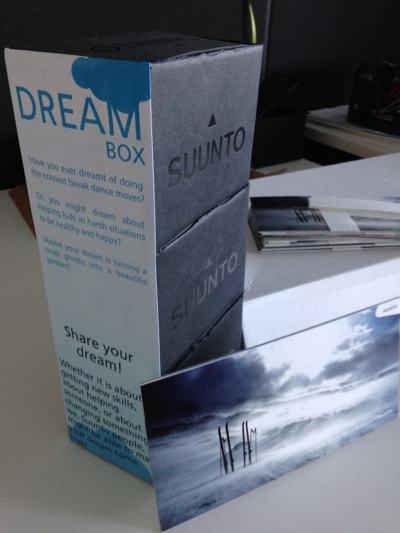 We used some marketing "waste" to test a system for doing a little good (individual or social) by voting for people's "dreams" and support them to achieve them. Weather that would be by giving small economic support or by creating a Suunto movement.
I also participated, together with a few other inspiring women in the organisation, in an initiative to empower women inside Suunto and in the outdoors and diving world. One of our success stories was motivating and encouraging the then very masculine industrial design team to consider women in their work, in who they work with and who they may do work for.
Other fun design activities at Suunto included supporting innovation. I supported the team with a bit of design guidance through creative experiments, like what ended up as Suunto Guiding Star.