The Daybreak Program
Supporting alcohol behaviour change through design and technology
I was hired in early 2016 to help Hello Sunday Morning, a not-for-profit organisation, to lead Design and help them create the best online program to support people change their relationship with alcohol, using the latest on behaviour change methods.
My main task would be to help the team move from an MVP to a high-quality and scalable product.
I took over the complete design process from a lean and UX strategy perspective. Starting with gathering learnings from an early MVP, Hello Sunday Morning initial (and non-sustainable) web platform, and, of course, market research.
Together with the small product team, I generated constant user research; translating qualitative and quantitative data into feature planning. Early on and parallel I started a complete redesign of the MVP to transform it into a high-quality product.
Here I am leading a journey map workshop in early stages of the product design process.
Personal tasks and deliverables
at Hello Sunday Morning...
Design Lead & Product management
During my last year at Hello Sunday Morning in 2018, I managed the Daybreak product development for its three clients (Android, iOS, Web-browser) and led the team of engineers. The web-browser version was managed by me entirely and it started already in 2017 with arranging contracts with external partners and was publicly launched in mid 2018.
As Design Lead I mentored and managed other designers, most of whom worked for short periods as external collaborators or inters.
Besides my leading role there were a few tasks I was in charge of, some of which I list bellow:
Designed Daybreak identity:
Logo, color palette, illustrations. Design system and UI guidelines. All visual assets related to the mobile and web app. Visual assets for marketing.



UX research:
Planned and executed interviews, surveys, user testing and other qualitative data gathering processes.


UX > IxD:
Translated qualitative and quantitative insights into concrete implementation outcomes.


UI design:
UI design & re-design, from sketches and prototypes until product specs and even css for the react web version. Creator and owner of design system and UI guidelines.



UX testing:
Some QA work (manual only) to ensure the quality of releases.


Marketing website:
Supervised of the graphic and experience design of the Hello Sunday Morning website. Designed the Daybreak landing page together with SEO and marketing team.


And more...
The fun part of working in a small team is that you need to expand your tasks to the unimagined! One of my favourite "extended" tasks with Daybreak was helping out researching and writing behaviour-change techniques that we framed as our own branded "experiments". We created a huge library of more than 100 options that would be filtered with smart algorithms and a bit of machine learning to support our members in the most personal way possible.
---
Achievements
During my ~3 years at Hello Sunday Morning we saw and incredible response to our Daybreak app and we succeeded in supporting close to 40,000 people in Australia and abroad to change their relationship with alcohol and improve their lives. The positive feedback and success stories through this work have been incredibly powerful and have been a huge motivation for me to keep focusing on designing for true and direct benefits to society.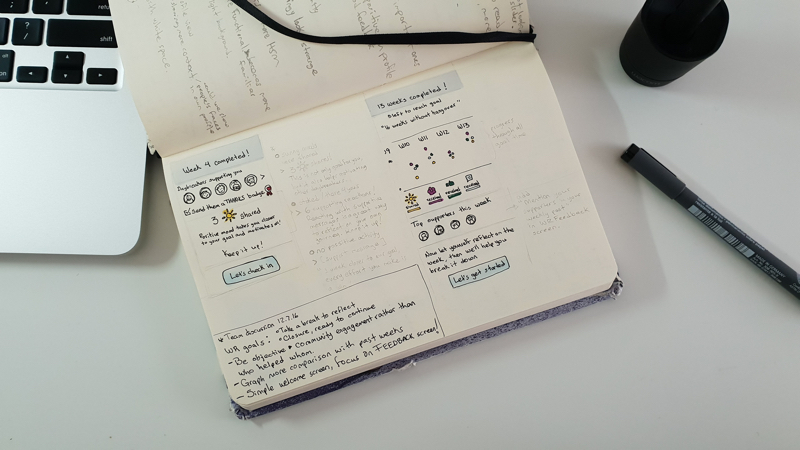 A group of researchers in australia found that from 348 apps for behaviour change, very few actually work. Daybreak received the highest score for alcohol-behaviour change and was 6th best rated overall.
You can read more about this project on its website and share it with people you love, it's free for Australians!
Related projects: Fylo chat-bot